Modifying a Child Support Order
Alameda County Department of Child Support Services (DCSS) will use legal processes to modify an order for child and or medical support. The diagram below provides an overview of the order modification process.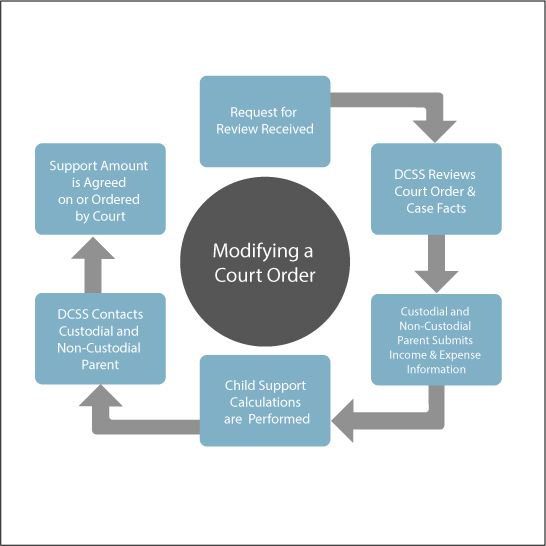 For more information see the Frequently Asked Questions below.
How do I get my child support modified?
We will review your court order for modification if you have a case open in our office and there is a change in circumstances that will last more than three months. To start the review process, please contact our office to submit your request. Please be aware that this review may result in either an increase or decrease in your support amount depending on the circumstances of both parents. If the review shows that the amount should change, we will proceed with the modification to change the monthly obligation. You may also seek a modification on your own behalf. Help can be obtained from the Family Law Facilitator/Self-Help Center.
If I lose my job or become disabled, do I still have to pay child support? What if I go to jail?
Under California law, parents are required to pay the court-ordered child support on time & in full. If you become disabled, lose your job, or go to jail, contact our office as soon as possible to provide information on your change in circumstances and to avoid or minimize any adverse actions that might be taken. Our office will review the child support order to see if a change is appropriate. You also have the right to file a request for modification directly with the Court that issued the order. If the order is not changed, the unpaid child support plus interest will still be owed.
How long does the modification process take?
The modification process commonly takes about 6 months to complete. It may be shorter or longer in some cases and is dependent on the details of a case.